* * *
the Epson WorkForce WF-2530 Wireless All-in-One Color Inkjet Printer, Copier, Scanner, ADF, Fax, the multi-function machine I use, which is currently on sale for just $79.99 on Amazon. Advertisers make it possible for Digital Media Mom to bring you great content each day for free, so thanks for your support.
* * *
When the Kindle Fire line of tablets first hit the market, it wasn't possible to easily print anything from them. But soon enough, printer manufacturers started releasing their own free, wireless printer apps, and making them available for the Kindle Fire line. People who owned recent-model HP Printers could install the HP ePrint app. More recently, Brother released its Brother iPrint&Scan app.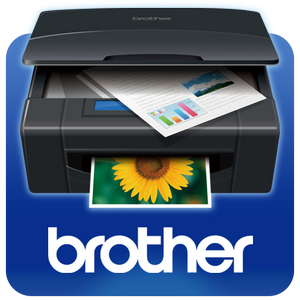 I've previously written about the CyPria printer app (which is not free) for owners of Epson printers, but now Epson has finally released its own, FREE, wireless Epson Print Plugin app for second-generation line of Kindle Fires: the HD and HDX models that were released late last year. The second-generation Fire tablets run a newer version of the Fire's custom Android operating system, and that's why this app is only compatible with the newer Fires.
While I was never able to get the Canon Print Plugin to work with my Kindle Fire HDX and Canon PIXMA MX850, I've now concluded it's because my printer was several years old at the time and probably didn't have the correct 'firmware' to handle any kind of print order coming from a Kindle Fire. After all, the Fire didn't even exist when I first bought that printer. Newer Canon printers are apparently another story, since in December of last year another Amazon reviewer reported that the app works fine for him with his newer-model PIXMA machine. It also appears to me that Canon has updated the app since the last time I tried to use it, so that may be a factor as well.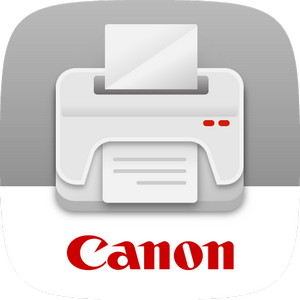 For owners of any other type of printer, it seems the PrinterShare Mobile Print app is currently the best bet. This app is pretty popular among users (average review rating is 4/5 stars as of this writing) but it's also expensive ($12.95 as of this writing) and you can't really be sure it will work for your specific printer until after you've bought it and tried it.
If you would be willing to pay the asking price for this app but only if you can be sure it will work for you, I suggest using the Search This Product's Reviews feature on Amazon to look for mentions of your specific printer name and/or model number in the customer reviews for this app. I provide step by step instructions for how to do this in my post, Amazon Review Tips & Tricks For Savvy Shoppers (feel free to click, the post will open in a new window).
Alternatively, you could try emailing the developer ([email protected]) to ask if your specific printer is supported before buying it.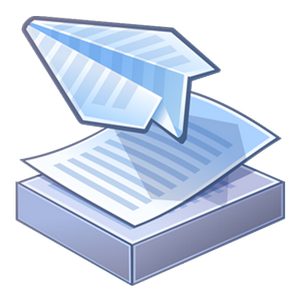 How Do These Printer Apps Work?
These apps all work the same way: you download and install the app, and from then on your printer shows up as an available printer in apps that have a "Print" option. Note that this is NOT a common option, and isn't allowed at all from within ebooks or other DRM-protected types of content. But the process works great in word processor, email, calendar and similar apps.
For example, in OfficeSuite Pro 7 running on my Kindle Fire HDX, after I'd downloaded and installed the Epson Print Plugin app (because I recently replaced that old Canon PIXMA) when I tapped the printer icon on the toolbar of my 'documents' window, a Print Options menu opened, showing the name of my Epson printer and allowing me to specify how many copies to print.
In OfficeSuite Pro 7 there's also a built-in option to 'print to PDF', so that choice always shows up in the Print Options menu whether you've got a printer app installed or not. The Print to PDF option provides a handy printer workaround as well: you can 'Print to PDF', then email the PDF to yourself so you can download it and print it the usual way from your home or office computer.
I tested the Epson Print Plugin app on my second-generation Kindle Fire HD as well, and it also worked, but a little differently. In the same program as I'd used to test on my HDX (OfficeSuite Pro 7), there wasn't a printer icon on the toolbar. I had to tap File > Print to get to the Print Options menu. But it was there, and it worked!
No more living in the tech equivalent of the Stone Age: now we Kindle Fire owners can print just like normal people do!
* * *
And now…:
I featured the Epson WorkForce WF-2530 Wireless All-in-One Color Inkjet Printer, Copier, Scanner, ADF, Fax in my post How To Choose A Printer on March 3 of this year, and I can now report it works great and I'm very happy with it! This multi-function machine would make a terrific wedding, housewarming or graduation gift: whether for a student getting ready to head off to college, an entrepreneur running a home business on a budget, or just for a typical family whose members need to print homework assignments, fax insurance forms, or make copies of important papers, it's a quality, affordable workhorse. (And now I know it can print stuff from my Kindle Fire HD and HDX, too!)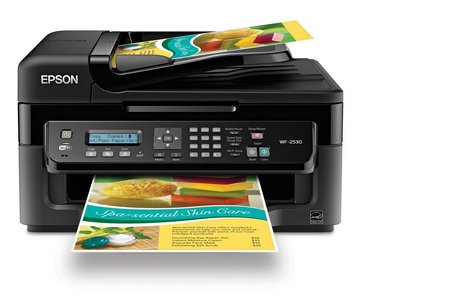 * * *