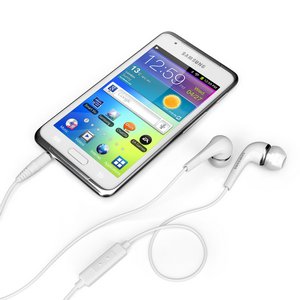 Amazon is one of my preferred shopping outlets, mainly because I'm an Amazon Prime member and that means I get free two-day shipping on almost everything I buy there. However, it's also a great resource for any shopper, even if you ultimately make your purchase somewhere else.
This is largely because of the customer reviews, but if your approach to Amazon customer reviews is to merely look at the overall average review rating for a given product and maybe spot-check a few of the most positive and most negative reviews, you aren't getting the maximum level of helpfulness and guidance from those reviews.
How To Use Amazon Customer Reviews Like A Boss: The Little-Known Search This Product's Reviews Feature
Amazon reviews are a particularly great shopper resource when you're looking at a big-ticket item, such as the Samsung Galaxy Player pictured in this post. You may have heard it's the exact same hardware as the iPod Touch (even made by the same overseas manufacturer), and you may also have heard it's a terrific alternative to the iPod Touch and a pretty nifty little device in its own right. But you probably have some specific feature requirements, and you also probably don't have time to read all of the customer reviews to see if any of them address your specific needs.
That's where the Search This Product's Reviews feature comes in very handy. Did you know it's possible to search all the reviews for a given product by keyword or phrase? Yup, and it's easy.
On the main product page, click on that downward-pointing arrow that's next to the average review rating for the item you're looking at: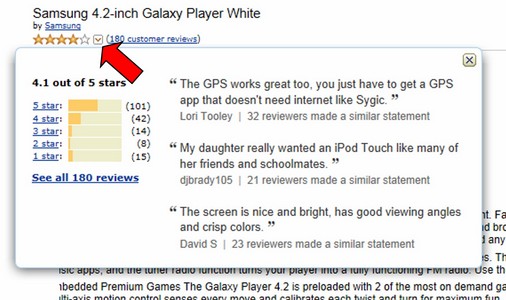 Notice how all the different review rating levels (e.g., 5 star, 4 star, etc.) are clickable links? You can click on any one of them to view only the reviews with those specific star ratings—but most people already know and use that feature. The one most people don't know about or use is Search This Product's Reviews. To access it, click on that "See all [number] reviews" link in the Reviews Drop Down; it's the boldface blue link at the lower left of the drop-down, as shown in the image above. That will open up a page with all of the product reviews on it, sorted by "Most Helpful" by default:


Now, how can you get the most useful information most efficiently from these reviews? Over there in the right-hand column, immediately beneath the product image block, there's a search box titled "Search Customer Reviews", and right beneath that box there's a checkbox labeled "only search this product's reviews", which is selected by default.
Search For The Information That Matters To You
Let's say you want to know from people who've owned both devices how well the Samsung Galaxy Player compares to the iPod Touch. Enter "iPod Touch" in the Search Customer Reviews box and click the Go button to bring up all the reviews that specifically mention the iPod Touch. Given that they're reviews for the Samsung Galaxy Player, it's a safe bet that any review that mentions the iPod Touch will be providing a comparison.
Don't be confused by the search results! The search results come up looking like a list of products, just the same as if you'd been searching for a book, pair of sneakers or anything else on Amazon. But you'll note that the product names and images shown are all the same, and all for the Samsung Galaxy Player (in this example):

You'll notice that each review listed has a handy little "Read more" link.
More Examples of Search This Product's Reviews
I was once considering buying a harness for one of our dogs, but even though the particular model I was considering was labeled as "x-small" it looked like it might be a little too bulky for my daughter's teeny-weeny Chihuahua. I did a search on "Chihuahua" in the reviews and sure enough, I found a few from Chihuahua owners who had found the harness was too bulky for their dogs. And I avoided ordering something I'd have to return.
When shopping for one of those armchair/backrest pillows (the kind that has arms built into the sides, so it's better for sitting up in bed), I found one I liked with a great overall review rating at a great price, and Prime-eligible to boot (which meant I'd get free two-day shipping), but the pillow had a fuzzy exterior and I was concerned about shedding. I searched the reviews for "fuzz" and "shed", and found two from customers who specifically stated they'd also been concerned about shedding and had found the pillow didn't shed any fuzz at all.
Concerned that a book you're considering for your teen may have too much graphic violence or explicit scenes of intimacy? Search the reviews on "graphic" or "explicit". Wanna know if a given piece of tech can accept memory cards? Search the reviews on "memory card" or "SD card". Wanna know if a lamp you're looking at takes standard or halogen (expensive) bulbs? Search the reviews on "bulb" or "halogen". Wanna know if glare is a problem on the TV set you're considering? Search the reviews on "glare".
You get the idea.
Do Your Part, For The Good Of The Order: Write Detailed Reviews Of Stuff You Buy From Amazon
When you finally do settle on that perfect item and have been using it for a while, be sure to log back on to Amazon and enter your own review, including specific details of the product's strengths and weaknesses. Maybe your review will be the one that saves another shopper unnecessary time and hassle, or reassures another shopper he'll be happy with his purchase.