Last week's Tech Frustration Friday meme was inspired by the death of my Canon PIXMA MX850 multifunction printer. I followed my usual process for deciding whether or not it was worth trying to fix what was wrong with the printer, then choosing a replacement, and thought I should share that process here. Here's the new model I ultimately chose: Epson WorkForce WF-2530 Wireless All-in-One Color Inkjet Printer, Copier, Scanner, ADF, Fax.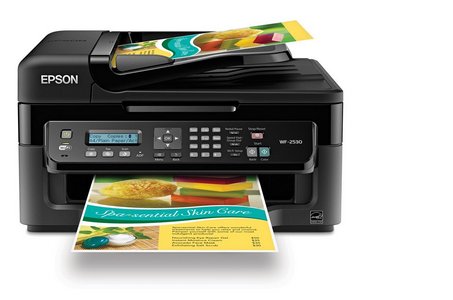 Fix It, Or Buy A New One?
I'd had the Canon machine for close to four years, so I can't say it came as a total shock when it suddenly refused to perform any of its multifunctions (print, copy, scan, fax) and displayed an error code of "B200″ on its screen. A little Googling showed me that the code means there's a printer head problem. A little more Googling, and watching some YouTube videos, showed me that if this problem were "fixable" at all, doing so would probably involve replacing the print head at a cost of anywhere from $50 (reportedly on eBay) to $150 (from the manufacturer). And of course, I'd still be printer-less while waiting for the new print head to arrive.
Since printers just keep getting better and cheaper, it was a no-brainer for me to decide I would be replacing the entire printer, and not just the print head. I knew I could easily get a replacement for about the same (or less) as what I'd pay for the print head alone, and when the printer is over 2 years old there's no good reason to try and keep it going: other little things are going to start going wrong with it anyway.
Now, if my research found that the problem could be resolved with some cleaning or ink tank replacement, I would've been willing to give those things a try before giving up on the Canon. It's a great machine, and I'd been very happy with it up to this point.
Choosing A New Machine
There are a few things you're going to want to consider when buying a new printer.
1. Inkjet, or Laser Jet? I've been using inkjet printers for many, many years and I've been very happy with them. However, there's no question that laser jet printers provide a higher quality output (higher resolution, that is) than an inkjet can, and it's much easier to find waterproof ink for a laser printer than for an inkjet. However, a laser printer will cost you FAR more than an inkjet and you'll be paying much more for replacement laser ink than for inkjet ink as well. It's not usually worth the extra money to the average consumer because inkjet quality and image resolution is still pretty darned good, and if you use high quality paper you can very closely approximate laser quality printing from an inkjet when printing something like photos.
2. Just A Printer, or Multifunction? Since I was replacing a multifunction inkjet machine and my kids and I use pretty much all of those functions regularly (except maybe the FAX), I knew immediately I'd be getting a multifunction machine. Having print, copy, scan and fax functions available makes the machine so much more useful than a printer that can ONLY print, and since multifunction machines are every bit as affordable as single-function printers, I can't really think of a good reason NOT to get a multifunction machine nowadays. Sticking to a print-only machine isn't going to save you a lot of money.
3. Wireless Now that everything is wireless, and wireless technology has become so cheap and commonplace, you'll want to avoid printers that don't have wireless (Wi-Fi) capability. Your home network is probably mostly wireless, running on Wi-Fi signals instead of having to connect every device with cables, so why not continue down that convenient path?
4. Color or Black and White? You won't actually save much money by sticking with a monochrome printer, unless you're set on getting a laser jet printer. A color laser jet printer is about the most expensive printer you can buy, and unless you're a professional photographer or artist it's probably not worth spending the small fortune you'd have to invest in a color laser jet machine. On the other hand, color inkjet machines are so plentiful and inexpensive now, it's actually difficult to find an inkjet machine that only prints in black and white.
5. Special Features That Matter To You One feature that's always been important to me in a multifunction machine is that it has a lift-up lid and "platen" glass I can lay originals on for making copies, as opposed to the type of machine that only employs a feed tray or slot, like a fax machine.
If you know you will often be using the printer to print photos, make sure you choose a printer that specifically mentions photo printing features and options in its description. The print settings for photos are a little different than those for documents, and if you get a printer that's not designed to print photos as well as documents your photo prints will be disappointing.
Similarly, if having a multi-page feed tray for the copy function is important to you (as opposed to making copies one at a time by laying them on the platen glass), be sure you choose a printer that can automatically feed pages for copying. Lawyers who sometimes have to copy briefs and documents at home may want to be sure they choose a machine that can handle legal-size paper, even if it means buying a legal-size paper tray separately.
6. Stick With Trusted Brands Brother, Canon, Epson and HP are all very well-known and trusted consumer printer brands. Lexmark is a little bit newer to the game and is generally considered to be a lower-end option: you'll pay less for it upfront, but it probably won't last you as long or deliver the same level of quality or features as the other brands. Samsung is really the new kid on the block in printers, and even though I've had Samsung phones for years I'm not quite ready to take a chance on one of their printers.
7. Look For Individual Ink Tanks You will save a LOT of money over the life of your printer by replacing individual ink tanks as the colors run out instead of having to replace a single, multi-color cartridge, as some machines are designed to have you do. I know from years of printing experience that in my household the black is always the fastest to run out, and the yellow always lasts the longest. Magenta and Cyan are somewhere in the middle. But printers that only take a single ink cartridge that contains all the different colors don't care if it's only the Cyan that's actually empty, they force you to replace ALL the colors whenever any single color runs out. Check the printer's product description to ensure you will be able to replace the ink tanks individually.
8. Replacement Ink Costs Also be sure to take a look at what replacement ink tanks will cost you. There can be a surprising range of prices in this area. In my experience HP replacement ink is the most expensive, followed by Brother, then Canon and Epson, but it depends somewhat on the printer model. Printers that are optimized for photo printing generally require higher-quality, more expensive inks.
What You Should Expect To Pay
As of this writing, you should expect to pay no more than $100 for a quality, consumer-grade multifunction machine, and you can usually do a whole lot better than that.
The Epson WorkForce WF-2530 model I selected is priced at $69.99 as of this writing. It's wireless, multi-function, has the platen glass thing for copying, uses separate ink tanks, and is from a trusted manufacturer. It also has a multi-page feed tray for copying, and optimized photo printing (smudge, fade and water-resistant photo prints on photo paper), but those features weren't important to me.
Now you can choose a new printer with confidence! And don't forget to properly dispose of the old one: call your local city hall to ask about electronics disposal events or drop-off locations*.
*electronic devices like printers, cell phones, computers, tablets, etc. have caustic chemicals in their components and should not be disposed of like regular trash because those chemicals can pose a fire or explosion hazard, and can also contaminate ground water. Most communities have special "electronic waste" days where residents can bring their old devices for proper disposal at no cost, and will typically have special electronic waste drop-off locations available for residents at all other times.