What's Loot Crate?
Loot Crate is a monthly subscription service that delivers a box filled with theme-of-the-month awesomeness to your door each month for $13.37 + S&H (which is $6 anywhere in the continental U.S., though they also ship to other countries), and the contents are guaranteed to have a minimum retail value of $40. Even though it's a subscription service, there's no minimum subscription period and it's very easy to cancel your subscription at any time—the Loot Crate site's FAQ page has a direct link to their cancellation page.
Quite A Haul This Month!
This month's theme is Time, and it includes a couple of highly collectible Back to the Future items in honor of this month's Back to the Future Day. Click or tap on image to view an enlarged version.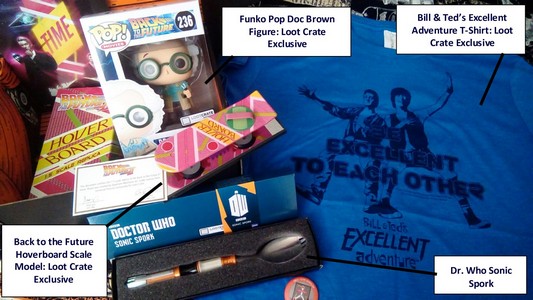 Actual retail values for the items in this crate, as of 10/23/15:
Bill & Ted's Excellent Adventure Shirt (Loot Crate Exclusive) – It's a Loot Crate exclusive, and it doesn't look like many Looters are willing to sell theirs, but a comparable, full-color Bill & Ted shirt currently sells on Amazon for $17.95
Funko Pop Loot Crate Exclusive Back to the Future Doc Brown figure – currently selling on Amazon at $39.95 + $4.95 S&H
Back to the Future Hoverboard Scale Model – Available on eBay for $15 or higher
Dr. Who Sonic Spork – $14.98 + $4.99 S&H on Amazon
Who's Your Doctor? Flowchart poster, inside Loot Crate Magazine – no value assigned
Loot Crate Time button – no value assigned
Grand Total Retail Value of the October 2015 Loot Crate: $97.82!