What's Loot Crate?
Loot Crate is a monthly subscription service that delivers a box filled with theme-of-the-month awesomeness to your door each month for $13.37 + S&H (which is about $6 anywhere in the contintental U.S., though they also ship to other countries), and the contents are guaranteed to have a minimum retail value of $40. Even though it's a subscription service, there's no minimum subscription period and it's very easy to cancel your subscription at any time—the Loot Crate site's FAQ page has a direct link to their cancellation page.
Digital Media Mom Takes One For The Team
This is Digital Media Mom, where I am all about getting my money's worth and would never personally recommend a product or service that doesn't meet my very high standards for quality and value. I've put up my own money to become a subscriber so I would be able to tell you myself whether or not this service lives up to the hype, and to decide whether or not I could feel good about becoming a Loot Crate affiliate. Well, having received my first Loot Crate, all I can say is: YES, ON BOTH COUNTS!
Check out everything that came in my first, "Rewind" -themed Loot Crate (click or tap on image to view an enlarged version in a new tab or window):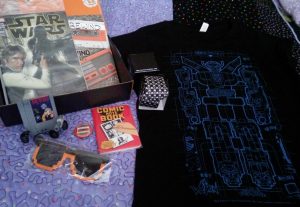 Here's the full breakdown, including links to retail prices (current as of this writing) I found for the same items (or comparable, in the case of Loot Crate exclusives) online:
Loot Crate -exclusive Voltron blueprint t-shirt – in my size, because they ask for that when you sign up: already selling for $10 – $25 on eBay. This is not a heavyweight shirt, like a Hanes Beefy T, but the quality of the shirt and the screen print are both very good.
Black Tie Geeks retro skinny tie with Space Invaders print – this exact tie is listed for $29.99 on Amazon, and I found some similar items from Etsy seller TopTies for $16.99
Loot Crate -exclusive 8-bit sunglasses – found the same item in purple on Amazon, listed at $5.81
Blank comic notebook w/ speech bubble templates from Unemployed Philosophers Guild – $3 on the Unemployed Philosophers Guild site
10-DOH! NES cartridge figurine in a Loot Crate -exclusive Dr. Mario/Dr. Who mashup design – note that I've unboxed and assembled it in the photo, but it arrived in full retail packaging. These figures sell for $10 – $30 each on Amazon in "blind box" packaging, which means you don't know which one you got until you open the box. The Loot Crate figures are all in designs that are exclusive to Loot Crate, so they're probably a little more valuable to 10-DOH! collectors.
Full-length Marvel Star Wars comic book with Loot Crate -exclusive cover art – the retail price of $4.99 is printed right on the cover, but again, since it's a Loot Crate -exclusive cover this may be of more value to Star Wars comic collectors
Limited edition Loot Crate button with this month's Rewind theme – (no comparable value item since this is a limited edition button that was made exclusively to ship in Loot Crate boxes, but buttons like these sell for $1 each at Hot Topic)
Drumroll, Please! The Total Value Of This Month's Loot Crate is…
Even if I use the minimum values listed above for these items and exclude the Rewind button, the total value of the merchandise in this month's Loot Crate is over $50!
As an added bonus, in keeping with the Rewind theme for this month's crate, everything came packed in a box designed to be refolded inside-out so it will look like a classic NES console. There's no dollar value I can assign to this, but it sure is cool!
Click here to sign up for Loot Crate, and start getting your own monthly box of awesomeness! – use discount code NEWS3 at checkout to save $3 on your first Crate
Note that Digital Media Mom is a Loot Crate affiliate site, meaning that the site gets a small referral fee on new signups through its links to Loot Crate. However, the personal endorsement given above is the sincere opinion of site founder/owner April L. Hamilton, and is not dependent on any form of compensation from Loot Crate.