If you've been using Gmail or Facebook for a while, chances are good you've purposely or inadvertently granted at least a few apps permission to connect to those accounts, "Login with Facebook" or "Login with Gmail", and if that's true, you've also granted them permission to gather certain data from you. Here's how to find out which apps gather your Gmail and Facebook data, and how to disconnect them.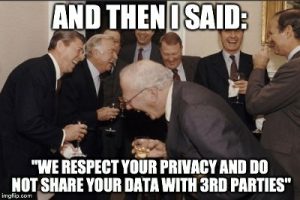 How To See Which Apps Are Connected To Your Gmail & Disconnect Them
Go to the Google Security Page for your account.
Click the link for Connected apps and sites (it's in the left-hand sidebar, as of this writing). All apps and services you've granted permission to link to or access your account will be shown.
Click on each app to see what permissions it has, and if desired, to disconnect it.
How To See Which Apps Are Connected To Your Facebook Account & Disconnect Them
These instructions are for the online website that's accessed in a browser, not the mobile app.
1. Login to your Facebook account and click or tap the globe icon to open the drop down menu, then click or tap the Settings link.
2. On the Settings page, click or tap the Apps link to view all apps you've granted permissions. Mouse over each app in turn to reveal the pencil icon. Click or tap it to edit settings for the app, or to delete the app from your Facebook account altogether.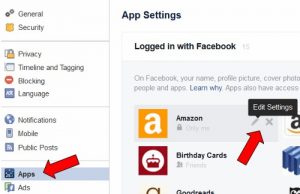 Note that these instructions are accurate as of this writing, on 5/2/17, but Google and Facebook features, pages and menus are subject to change at any time in the future.
* * *
If you've been listening to friends, family and co-workers rave about shows like Outlander, The White Princess, Black Sails or the upcoming American Gods, but haven't been able to join in because you don't get Starz! and don't want to sign up for a whole cable package just to get these shows, no worries! With an Amazon Channels Free Trial(not available outside the US) you can sign up for individual premium cable channels like HBO, Showtime and Starz! with no cable contract or commitment. You get access to all of each channel's great programming—movies and original series alike—on all your streaming video and mobile devices, and the first month is free of charge. Try your favorite channel out for 30 days at no charge (Psst! You can binge watch during the free trial, there are no limits on how much or when you can watch!), and if you decide not to cancel the price for Starz! is currently $8.99 per month after that (prices vary by channel; at $14.99, HBO is currently the most expensive). You can cancel at any time, so unlike a cable subscription, there's no minimum contract and no commitment.
Advertisements make it possible for Love My Echo to bring you great content for free, so thanks for your support.
* * *