I don't know whose bright idea it was to start this autoplay thing, but it's BEYOND annoying. Don't worry, as per usual Digital Media Mom's got your back and I'm here to tell you how to disable autoplay videos in the browser.
Note that these fixes only stop autoplay for video content served by the site itself, they may not stop full motion video ads from auto-playing. For that, you'll need to find an ad blocker plugin.
In Firefox:
Type "about:config" (without quotation marks) into the browser URL bar and press Enter.
Answer yes / confirm when the warning box comes up.
When the Configuration page loads, scroll down to the "media.autoplay.enabled" line. By default, it's set to true. Double-click on the line to change it to false.
In Chrome:
**2/1/17 UPDATE** A reader says the instructions below may be out of date, and suggests this link to a TechnologyHint how-to for more recent instructions.
Navigate to Menu > Settings.
Locate the "Show advanced settings" link at the bottom of the page and click it.
On the linked page, scroll down to Privacy settings. Under Plug-ins, click select the Click to play option.
Click Done to save your changes.
Note that after making this change, any Flash video windows will be grayed out and show a jigsaw puzzle piece icon on them. Click in the window to start the video.
In Safari:
Navigate to Preferences > Advanced
Click "Stop plug-ins to save power" to select it.
In the Security tab, verify the "Allow Plug-ins" item is enabled.
Click "Website Settings".
Find the media type for which you want to block autoplay, like Adobe Flash and Quicktime. For each media type, change the "When visiting other websites" setting to "Ask" if you want to be able to click the individual videos to play them. To totally disable video playback of that media type, change the setting to "Block".
Click "Done", then close and re-start the browser.
I am not a Safari user, but I've seen posts in discussion groups that say clicking on an individual video after you've set the "Ask" option will override the general setting and start videos auto-playing again until you shut down and restart the browser.
In Microsoft Edge:
Navigate to Menu > Settings.
In the Settings box, scroll to the bottom and find the "View advanced settings" link. Click on it.
In the linked form, set the "Use Adobe Flash Player" toggle to "Off".
You're welcome.
* * *
The Emie Devil Volt Portable Charger, 5200mAh Compact and Stylish Power Bank USB Charger (UK readers – click here) is a stylish and fun way to keep the juice flowing for your mobile devices. Light-up horns show you the status of the current charge at a glance. Looks great on a desk, end table or counter top. Currently (as of 1/31/17) rated 4.5/5 stars, priced at $35.99-$36.99 depending on color choice.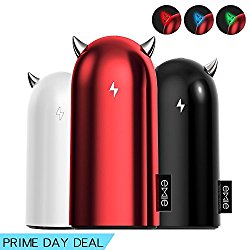 Advertisements make it possible for Digital Media Mom to bring you great content for free, so thanks for your support.
* * *