Welcome to DMM's 1/23/17 Movie Monday, where I'll help you tackle movie night with brief reviews of movies you may have missed that are worth the rental or purchase.
This week, I'm featuring a few lesser-known horror movies that offer some big names and are better than critics' reviews would have you think. I'm not a fan of gratuitous gore, so while any R-rated horror movie will of course have some splattery deaths, none of these linger too long or lovingly on the blood and guts.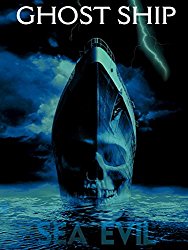 Ghost Ship (R)
In a remote region of the Bering Sea, a boat salvage crew discovers the eerie remains of a grand passenger liner thought lost for more than 40 years.
This movie stars Juliana Marguiles, Gabriel Byrne, Karl Urban and Ron Eldard, and includes Emily Browning in one of her first big-screen roles. It's hard to say much about the plot without spoilers, but let's just say that when a salvage crew decides to take on a job that seems like a profitable walk in the park, they get MUCH more than they bargained for. Yep, the ship's haunted, but that's not all: there's a conspiracy afoot as well. The flashback to what happened to the original crew and passengers includes a fairly horrifying sequence unlike anything I've seen ever before or since.
The Faculty (R)
This hip and edgy thriller from the director of Machete and writer of Scream sizzles with a hot young cast including Elijah Wood (The Lord Of the Rings trilogy), Josh Hartnett (30 Days of Night) and R&B superstar Usher Raymond.
The cast also includes Jon Stewart (of Daily Show fame), Famke Jannsen, Salma Hayek, Piper Laurie, Bebe Newirth, Clea DuVall and Robert Patrick. Talk about your star-studded lineup! This movie may seem like a garden-variety high school thriller at first glance, but its outstanding cast, believable script, original plot and touches of dark humor make for a very enjoyable change of pace.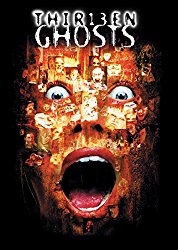 13 Ghosts (R)
A family inherits an elegant mansion from a deceased relative. The catch is that along with the house comes a slew of ghosts that can be seen only through special goggles.
Stars Tony Shalhoub, Matthew Lillard, F. Murray Abraham, Embeth Davidtz and Shannon Elizabeth. I'll be honest with you, the big sister – little brother plot thread is kind of annoying and saccharine, but the rest of the film is so novel and twisty that it's worth waiting out those few, brief sequences.
The house itself, an immense puzzle box made entirely of glass panels covered in arcane, etched symbols with steampunky-looking metal  framing deserves to be credited as another featured player in this movie, because it's gorgeous and has a life of its own. From time to time the house re-configures itself, sometimes trapping and other times freeing the people within. Those characters don't always want to be freed though, because there are murderous supernatural forces at work in the rooms and machinery of the house.
There's a ghost story here but the underlying plot is a cautionary tale about dabbling in the occult.