I just posted about the new tablets for another site so I'll reproduce that same post here, then add the new Fire TV details.
Here's the rundown on the new models, from Amazon:
All-New Fire Tablet ($49.99, available for order today, ships 9/30/15): This is a groundbreaking new tablet for under $50. The new Fire tablet includes a quad-core processor, 7" IPS display, front- and rear-facing cameras, up to 128GB of expandable storage, exclusive Amazon features and services, and access to the world's best content ecosystem—all for just $49.99. Customers can also choose to buy Fire as a six-pack for less than $250.
My take: the specs on this $50 tablet are surprisingly good. Its display is a bit lower in resolution than the current HD6, and its processor speed and battery life are both a little lower than the HD6 as well. But it's not a dramatic difference, and the new $50 Fire has the same camera and WiFi specs as the HD6. Also, the $50 Fire has one feature the HD6 does not: an SD memory card slot. Overall, this tablet is highly competitive with other Android tablets currently available that are priced much higher, and we suspect this model is a loss leader for Amazon.
Fire HD 8 ($149.99, available for order today, ships 9/30/15) and Fire HD 10 ($229.99, available for order today, ships 9/30/15) – These new tablets are designed from the ground up for entertainment with a stunning 8" or 10.1" widescreen HD display, an incredibly thin and light design, quad-core processor, stereo speakers with Dolby Audio, front- and rear-facing cameras, and microSD card support providing up to 128GB of expandable storage. Fire HD also introduces Fire OS 5 "Bellini," which brings the best entertainment experience on any tablet, with an updated user interface, deep integration of Amazon-exclusive services, and hundreds of new and upgraded features and platform updates.

Fire HD 8
Fire HD 8 ($149.99, available for order today, ships 9/30/15) – this model is available in your choice of the four case colors shown at no extra charge, and while it's not pictured above these tablets come with a 5W charger and USB cable.

Fire HD 10
Fire HD 10 ($229.99, available for order today, ships 9/30/15) – this model is available in your choice of a black or white case at no extra charge, and also comes with a 5W charger and USB cable.
My Take on the Fire HD 8 and Fire HD 10: The feature set on these two is virtually identical in terms of technical specifications (same cameras, same processor, same audio, same SD slot, same WiFi, same battery life, same software). The only real differences are that the 8″ model is available in your choice of blue, tangerine, magenta or black case while the 10″ tablet only comes in black or white, the 10″ model has larger options available for built-in memory, and of course the 10″ tablet's display is larger. The larger screen does not offer higher resolution than the 8″ model, and in fact it's just slightly lower (189 pixels-per-inch for the 8″ model, 149 ppi for the 10″), but it's probably not a big enough difference to be noticeable to the typical consumer.
Bottom line: given that both models can take an SD card, the main reason you might choose the 10″ over the 8″ is screen size.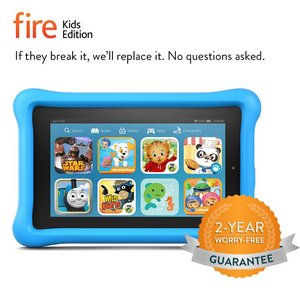 2015 Fire Kids' Edition
2015 Fire Kids' Edition ($99.99, available for order today, ships 9/30/15) – Last year, we introduced Fire HD Kids Edition at $149—and parents and kids alike loved it. Today, we're making it even more affordable—Fire Kids Edition comes with an all-new Fire tablet, an updated kid-proof case, one year of Amazon FreeTime Unlimited, 20,000 hand-curated and age-appropriate websites and YouTube videos, and our same 2-year worry-free guarantee. Fire Kids Edition is a total value of over $200, and available for pre-order starting today for just $99.99.
Available in your choice of ruggedized case color (blue or pink) at no extra charge, includes 5W charger and USB cable.
My Take – If you compare the technical specification charts, the new Kids' Edition Fire is essentially the same as the new Fire HD 7, but it runs a specialized version of software that has built-in parental control features, comes in a ruggedized case and includes Amazon's 2 year "worry free" guarantee. If you're considering buying a new Fire tablet for your child, it's probably worth getting this model for very young kids but the new 7″ Fire should be fine for middle-graders and up. Just be sure to set up parental controls on the regular tablet if that feature is important to you, because unlike the Kids' Edition, the new 7″ model does not come with controls already built right into the operating system.
New Fire TV Stick & Fire TV Streaming Boxes
From Amazon:
Fire TV and Fire TV Stick with Voice Remote – Last year, we introduced the first Amazon Fire TV, combining voice search that actually works, fast and powerful performance, and an open ecosystem to deliver the easiest way to watch Netflix, Amazon Video, HBO NOW, Hulu, WatchESPN, and more on your big-screen TV. Since launch, Fire TV has become the #1 best-selling Amazon device category, with Fire TV Stick quickly becoming our fastest-selling product ever. Today, we are making those best-selling products even better.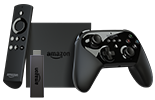 Today we are introducing the next generation of Fire TV—–the new Amazon Fire TV streaming box with an SD card slot and support for 4K Ultra HD, and the new Fire TV Stick with Voice Remote. Both come with Alexa Voice Service functionality.
Fire TV Gaming Edition – Today we also introduced a new version of Fire TV designed for affordable, high-quality gaming. Amazon Fire TV Gaming Edition includes the all-new Fire TV, the new Fire TV Game Controller, a 32 GB microSD card, and two popular games: Shovel Knight and Disney's Ducktales—all for just $139.99 (regularly $187.95).
My Take:
If you already own a Fire TV stick or streaming box, your first question will probably be, "Will a software update be released to add Alexa Voice Service functionality to existing Fire TV devices?" I called Amazon's Fire TV tech support to ask that very question, and the answer is yes. However, to use AVS features you'll need to use a voice remote (current-model Fire TV sticks didn't come with them) or the Fire TV mobile app.
I never bought a Fire TV box and don't have a Fire TV voice remote, but I just ordered one so that when the new software update comes out (Amazon's not announcing an official ETA, but I'd guess it'll be sometime in October, whe the new Fire TV devices start shipping) I'll be able to start taking advantage of the AVS features right away without having to crack open the mobile app. My plan at that point is to move my Echo into my bedroom. And while we're talking about the Echo…
If you already own both a Fire TV device and an Echo you probably want to know whether you'll be able to control your Fire TV functions via spoken commands to the Echo, and the answer to that is no. The Fire TV software in its current version already supports voice search with the voice remote or mobile app, so while I'm not an Amazon employee and can't say for certain why this is, my guess is that Amazon decided there was no reason to re-create it in the Echo. Also, many people have their Echo in the same room as their TV and trying to move this function to the Echo would've introduced numerous complications and unintended consequences.
Looking up video content will work the same as it always has on Fire TV devices, but music lookup by voice (which isn't supported in current-model Fire TV devices) will be part of the new Fire TV AVS feature set. I wrote a 'preview of coming attractions' -type post about AVS on Fire TV over on my Echo site, Love My Echo, and it turns out that pretty much everything in that post accurately reflects how the new software will work. If you have an Echo and Fire TV device, it's probably worth a look.
Should You Buy One Of The New Fire TV Devices?
This really comes down to your personal priorities and preferences.
If you use your Fire TV for gaming, then it's probably worth getting the new Fire TV Gaming Edition on account of the new SD card slot and included games.
If the SD card slot and new 4k HD Ultra capabilities are important to you, then you probably want to get the new Fire TV.
If you're like me, someone who already owns a Fire TV device and your main interest in the new devices is AVS functionality, then you can afford to sit tight and wait for the software update. If you have a Fire TV box then you also already have a voice remote, so you're all set. If you have the Fire TV stick, there's no need to buy a new stick or box when you can get all the same AVS functionality simply by ordering a $29.99 voice remote (price as of today, 9/17/15).