Got Some Disney Digital Copies Gathering Virtual Dust In Various Accounts?
If you've redeemed some of those "free digital copy" codes that came with Disney movies you purchased on disc, whether they're in iTunes, Vudu (which also includes Ultraviolet now), Google Play or Microsoft Digital, it's now possible to link up all those accounts via a free Disney Movies Anywhere account (if you already have a Disney Movie Rewards account, you can login using that username and password).
While the codes for free digital copies were never redeemable on Amazon Instant Video, you can link your Amazon Instant Video account too—and you should do so, if you use Amazon Instant digital services. Here's why:
Every digital video account you link under Disney Movies Anywhere is granted access to all the digital Disney movies you own in any other linked account.
Copies bearing the blue "Disney Movies Anywhere" stripe (red arrow below – tap or click on image to view an enlarged version in a new tab or window) will simply be added to each of your various linked digital video libraries.  Those shown below were added to my Amazon Instant Video library at no cost, based on my having bought them or redeemed free digital copy codes for them in iTunes: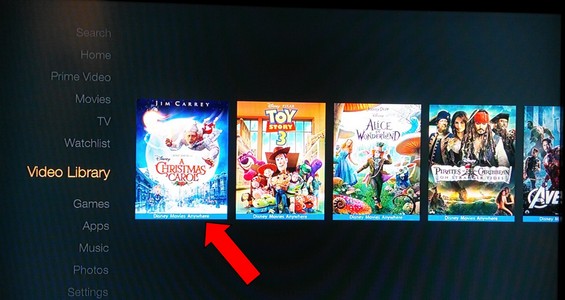 Now that Disney owns not just Disney and Pixar properties but The Muppets, a big chunk of Marvel franchises and the LucasFilm / Star Wars franchise as well, you may be surprised at how many of your past digital purchases/redemptions will be caught in the Disney Movies Anywhere net and made available across all your linked accounts at no charge.
Going forward, if you want to be sure your Disney Digital video purchases will be made available to all your linked accounts, be sure to look for that Disney Movies Anywhere blue stripe on the digital movie's cover art icon. It appears to me that most Disney Digital movies are eligible for this program, but since Disney isn't specifically guaranteeing this it's safest to assume only those films with the special Disney Movies Anywhere designation will be added to all your linked accounts.
A Free HD Bonus
Since I decided to make Amazon Video my dedicated service years ago I'd pretty much written off the digital movies I had stored in other services, and in some cases I'd already re-purchased a given Disney digital video in Amazon Instant Video format.
I was pleasantly surprised to find out that even in the case of those duplicates, I got a nice bonus: the digital copies I'd redeemed using codes that came bundled with DVD or Blu-ray discs were all HD versions, and in most cases I'd only purchased the standard def editions when I replaced them in Amazon Instant Video format. When I linked my Disney Movies Anywhere account to Amazon a second, HD copy of each of those films was added to my library.
Now, when I look up one of those films and press play, I'm prompted to choose the HD or SD copy. Nice!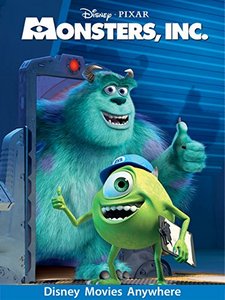 Act Quickly To Get Monsters Inc. in HD For Free
To promote this new offering, for a limited time Disney is offering a free HD digital copy of Monsters, Inc. to anyone who links a Disney Movies Anywhere account to their Amazon Video, iTunes, Google Play, Vudu or Microsoft account. The video will be added to your library right on the Disney Movies Anywhere site and a copy of it will be added in to the libraries in all your linked accounts.
Right now, the Disney Movies Anywhere site will automatically prompt you to do the linking when you login.
If the prompt is no longer there at the time you're reading this, click the Settings link (gear icon) on the Disney Movies Anywhere site, then click Account > Connect Accounts. On the Connect Accounts page, click to select the outside service(s) to which you want to connect. You'll be taken to each connected site and prompted to confirm your choice to connect accounts.
Note that the linking for iTunes can't be done on a phone or tablet, you have to access the Disney Movies Anywhere site on a computer that has the full iTunes program installed in order to follow the linking prompts because they ultimately go through iTunes.
What If I Have Videos In iTunes, But Don't Use iTunes Anymore?
Then you're in the same boat I was yesterday, but no worries, you can still do this.
1. Go to iTunes.com and download and install the most recent version of iTunes. Hopefully you still remember your Apple ID and password, but if not, you can use the "forgot" links to retrieve them.
2. Restart your computer, otherwise your browser won't "know" iTunes is installed and the account linking will fail.
3. Log back into iTunes, then go to the Disney Movies Anywhere site and go to Settings > Account > Connect Accounts on that site. Select iTunes and click the Connect button. Follow the prompts to get connected.
Note that some users report having difficulty connecting in this or that browser (e.g., Internet Explorer, Chrome, Firefox, etc.), but it seems like for every person who says it didn't work in Browser X there's another who says it only worked in Browser X. Bottom line: if it doesn't work, try again in a different browser.
4. When the connection process is finished, go to your video library in the linked account you'll be using to watch your Disney digital videos going forward—for me, it was Amazon Instant Video—and verify the new copies are there.
5. Log out of iTunes and if you want, uninstall it from your machine. The account connection thing is now stored as part of your Apple ID account settings until or unless you choose to disconnect, so it's no longer necessary to keep a copy of iTunes installed.
Don't Overlook Ultraviolet Copies
To get your Ultraviolet video library in on this deal, you'll have to link that account to a Vudu account because the two services have merged and there's no separate option to link an Ultraviolet account on the Disney Movies Anywhere site. If you don't already have a Vudu account, it's free to sign up on the Vudu site. A screen will come up to prompt you to enter a form of payment for future purchases during account registration, but you can just skip that step by clicking on a menu bar link.
As of this writing (on 9/9/15) there's an Ultraviolet menu bar link right at the top of the Vudu site, but if it's not there at the time you're reading this do a search for "Ultraviolet" in the Vudu site's support area.
You'll need your Ultraviolet account username and password to link your Ultraviolet account to your Vudu account. If you don't remember your Ultraviolet login credentials, you can use the 'forgot' link(s) on the Ultraviolet site to retrieve them.
Finally! I have access to all those past Disney digital purchases and redemptions in my Amazon Instant Video library, and no longer have to plan on re-purchasing them from Amazon!
* * *
And now…
The Anker 14W Dual-Port Solar Charger with PowerIQ Technology is just the thing to tuck into a backpack or bag for hikes, school, the beach or anywhere else you're likely to have sunlight but no electrical outlets to charge your USB devices. It has an average review rating of 4.5/5 stars across over 1,100 reviews and is currently on sale at 29% off, priced at $49.99 instead of its usual price of $69.99.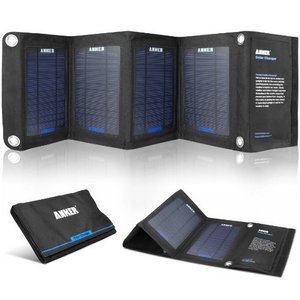 * * *
Fire Tip of the Week: Which Generation Is My Fire Tablet?
* * *