* * *
the Anker® 2nd Gen Astro Mini 3200mAh Lipstick-Sized Portable Charger External Battery Power Bank, currently 75% off and priced under $10 on Amazon (as of 7/14/15). Advertisers make it possible for Digital Media Mom to bring you great content each day for free, so thanks for your support.

* * *
You Probably Know All About The Kindle Daily Deal, But…
…did you know there's an Audible Daily Deal on offer every day, too? Probably not, unless you're in the habit of checking the front page of the Audible site each day.
The Audible Daily Deal is a one-day only discount on an Audible audiobook, with prices on the Deal typically ranging somewhere between $2.95 – $4.95. Audible is owned by Amazon and for a time, the Audible Daily Deal was featured right on the Audible home page on the Amazon site, just the same as Kindle Daily Deals are on the Kindle Books home page, but not anymore. Here's the Audible home page on Amazon for today, to demonstrate; note the total lack of any Audible Daily Deal mention.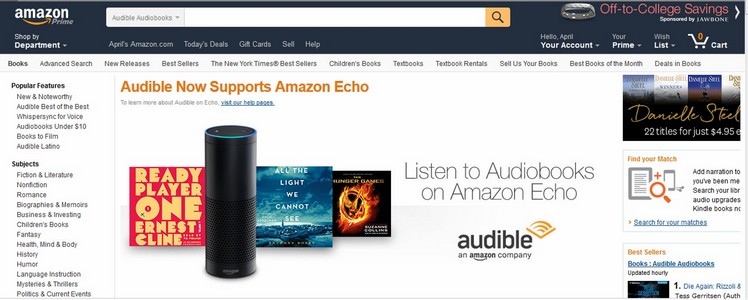 The Audible Daily Deal won't be featured on the Audiobooks > Store page of your Fire tablet either. It used to be shown there each day, but at some point that stopped.
Even more maddeningly, if you look up the Audible Daily Deal book on Amazon its temporarily discounted price won't be shown in the search results list: you have to click through to its product page to see the discounted price. It's almost like Amazon doesn't want you to find these deals or something.
Now check out the Audible home page for today, and note that Daily Deal icon. It's there every day, but again, you have to visit the Audible site to see it. Click it each day to view that day's Audible Daily Deal.
If you're an audiobook fan, get in the habit of checking Audible's home page and clicking on the Daily Deal icon every day. I've found LOTS of great deals on audiobooks I'd been wanting this way.
* * *
And now…
The Anker® 2nd Gen Astro Mini 3200mAh Lipstick-Sized Portable Charger External Battery Power Bank is handy to have on hand for those times when your cell phone or tablet battery's about to die and there isn't an outlet in sight. It has an average review rating of 4.5/5 stars across over 14,800 reviews and normally sells for $39.99, but right now it's available for just $9.99—that's 75% off, and it even has same-day delivery availability (in areas with Amazon same-day delivery).
* * *
Fire Tip of the Week: Fire TV Fix: When Resume Play Doesn't Work
* * *