* * *
the Toshiba Satellite C55-B5287 15.6-Inch Laptop (Windows 7), currently being offered at 21% off on Amazon. Advertisers make it possible for Digital Media Mom to bring you great content each day for free, so thanks for your support.
* * *
Netbook vs. Laptop: What's a Netbook, Anyway?
It used to be that when you bought a laptop you knew exactly what you were getting: essentially, a portable version of a desktop computer. Then Netbooks came along late in the 90's: machines that looked like laptops, but were typically smaller and had very little memory or ability to run programs because they were primarily built for web surfing, email and little else.
The Netbook never really took off and eventually faded away. But more recently, Netbooks are back — they're just not being called Netbooks anymore, for the most part.
The Chromebook & HP Stream Are NOT Laptops, They're Netbooks
The HP Stream pictured above costs less than half what you'll pay for today's sponsor laptop, and for good reason: it's not a laptop. Like the Netbooks of old, this machine may look like a laptop computer and have some of the same features as a laptop, but it has an unbelievably small hard drive: just 32GB! 32GB hasn't been an adequate level of hard disk space since before the days of Windows XP!
But this is by design, because this machine is not a laptop and is not designed to do everything a laptop can do. It is not designed to have a bunch of programs installed right on the machine that you can run offline, it's only designed to get you connected to the internet so you can access "cloud computing" programs like Windows 365 (it comes with a free trial of Windows 365, by the way).
It's also not designed for storing your photos, videos, personal documents and so forth like a laptop. With this machine, you're supposed to keep all that stuff in the Cloud and only load the files you need to the machine temporarily, while you're working on them. In my opinion Cloud Computing is not quite ready for prime time, and I'm in no rush to entrust all my files to a remote server. Besides which, even if your Netbook comes with a free trial period of Cloud storage, you will eventually have to start paying by the month or year to store your stuff in the Cloud.
And yes, what you may now be suspecting is true: a Netbook has very little functionality without an active internet connection. The HP Stream pictured above doesn't even have a disc drive you could use to watch DVDs while it's offline. For me, a Netbook would be virtually useless when it's offline.
The HP Stream is a Netbook, but you won't find that word in its title: it's actually being called a "laptop", and MANY Netbooks are doing the same thing. Nowadays, you have to be a smart shopper to be sure you're NOT getting a Netbook when you expected a laptop.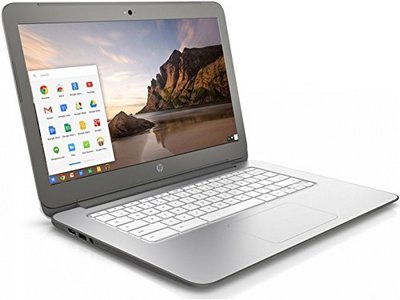 How To Tell Whether You're Looking at A Netbook or Laptop
It's not hard to distinguish between Netbooks and laptops if you know what to look at.
1) Chromebooks (like the one pictured above) are ALL Netbooks.
2) Price – Any new Windows machine priced below $300 is probably a Netbook.
3) Small Hard Drive – Any machine with less than 250GB is most likely a Netbook, and most Windows laptops come with a minimum of 500GB of hard drive space.
4) NO Hard Drive – Many Netbooks don't have a hard drive at all, and only use Flash memory. In the detailed description of the machine, this Flash memory may be referred to as a "solid state drive" or an "SSD Drive". Whatever the case, the amount of memory will still be very small compared to a true laptop.
5) No disc drive – most Netbooks do not have any kind of disc drive for CDs, DVDs, etc. This is partly why they're so much less expensive than a true laptop, but it also severely limits the machines' functionality.
6) Fewer ports – Where a quality laptop will typically have two or more USB ports, an HDMI port, an Ethernet port and various ports for other devices like printers and scanners, a Netbook will typically only offer USB ports.
7) No SD Card Slot – many Netbooks don't have any memory card slots, for SD or microSD memory cards.
For people who only use a laptop as a gateway to the internet and have no need to run local programs or maintain much in local memory storage, a Netbook will be fine. For everyone else, a laptop is the better buy.
* * *
And now…
If you're in the market for a new laptop (like me) and dread the prospect of having to switch from Windows 7 to Windows 8.1 when you get the new machine (like me), then the Toshiba Satellite C55-B5287 15.6-Inch Laptop (Windows 7) is a terrific way to go. This model comes with Windows 7 Professional pre-loaded, and at its current pricetag of $472.99 (as of 3/31/15) it's a great buy. For many years now Toshiba Satellite has been my go-to brand for laptops: they're well-built, reliable, and come with many of the features you'd only expect in a higher-end machine.
* * *
Fire Tablet Tech Tip of the Week: All About Docs & Downloads On The Fire Tablet
* * *