* * *
Today's post is brought to you by the Shakespeare Insults Mug, which I own and love! Advertisers make it possible for Digital Media Mom to bring you great content each day for free, so thanks for your support.
* * *
Did You Know About Facebook Stickers?
Facebook stickers are little, ready-made icons you can insert in your private messages and in comments you make to others' status updates and posts when you're using the full Facebook site in a web browser—functionality will vary in the mobile app and mobile version of Facebook.
There are lots of sets, many of them featuring licensed characters like Snoopy, Om-Nom from Cut the Rope, Adventure Time and World of Gumball, and they're FREE!
**UPDATE** It appears that stickers are not enabled on Fan Pages, only on individual Facebook users' timelines/profiles and in private messages.
The How-To's
First, you have to "buy" at least one sticker set from the Sticker Store on Facebook—but as of this writing, all available sets are free. Once you have one or more sets in your personal collection, you can start using them!
1) Mouse over the little smiley face at the far right of the comment box, or at the lower left of the private message box, then click the "Post A Sticker" link.

2) Click on the plus sign to open the Sticker Store. Note that in the screenshot below, I've already added some stickers to my collection. The tab that's open by default (indicated by the little clock icon) shows recently used stickers. The other tabs are for accessing each sticker set that's part of your collection.
3. "Buy" the sticker sets you want by clicking the applicable green button (the screenshot below only shows a few sets, you can scroll up and down to view many more), and repeat steps 1 and 2 above to access your sticker sets in the future.
To insert a sticker in a comment box or private message box, just find the one you want to use in your collection and click on it! Note that the sticker you click on will be inserted and the comment/instant message containing the sticker will be posted immediately, there is no "undo" other than to delete the comment or message after it's been created.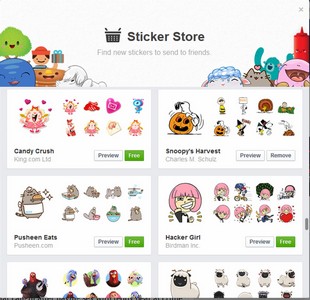 Note that while all currently-available sticker sets are free, the whole system seems to be set up to support a payment system. At some point I expect new sticker sets that will cost real money to be added, so just be alert to that possible change going forward.
* * *
And now, a word from our sponsor…
I own several of these squat, sturdy literary quotes mugs from The Unemployed Philosopher's Guild, and the Shakespeare Insults Mug is the first one I ever bought. It quickly became such a daily fixture in my workspace that when it came time to add my caricature to the Digital Media Mom masthead, I decided to include it. If you're reading this on the DMM site, check it out! The mug is microwave and dishwasher safe, and will bring a smile to the face of any Shakespeare fan.