the current ThinkGeek.com sale (up to 50% off!) on clothing and outdoor items, running through 3/2/14. Advertisers make it possible for Digital Media Mom to keep bringing you great content for free, so thanks for your support!
* * *
Next time you're looking for something short to read, head on over to East of the Web's Short Stories portal. There, you can find thousands of short stories to suit every taste—all for free!
Each listing includes a brief description, an average review rating, a recommended minimum reader age rating, and even the story's length in pages. The stories can be read online or printed out in hard copy.
Kindle / Paperwhite / Kindle Fire owner tip: If you have a pdf converter program, you can click on the 'printable view' link for any story, print to pdf format from your browser, and then transfer the story to your Kindle, Paperwhite or Fire via USB or send it to your device via email. Remember: pdf is one of the formats you can read on any Kindle device.
iPhone / iPad / iPod Touch owner tip: look for the Short Stories app in the iTunes App Store. You can use it to browse the full East of the Web Short Stories collection and download stories from the site, and it also serves as a full-featured reader app with user options to change the font or text size, "page" orientation and more.
This screenshot shows a very small sampling of what's available on the East of the Web Short Stories site – click on the image to visit the site!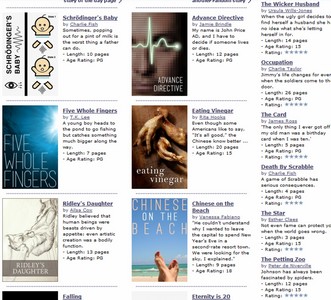 'Nuff said – head on over to East of the Web and start reading!
* * *
And now…: