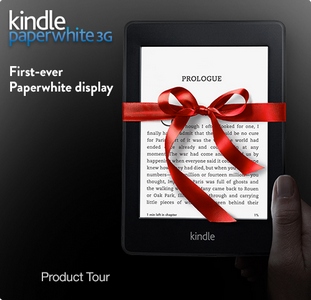 This little nugget was included in a previous DMM post, I Got A New Kindle Fire; Can I Give Away My Old Kindle Or Fire?, but since many of you who don't have plans to pass on an old device might've skipped that post, I figured I should break this out as a separate post.
If you've previously set a parental controls lock password or screen lock passcode on your Kindle, Paperwhite or Fire and don't remember it, unfortunately, the only way to remove the lock is to do a combination unlock/reset on the device.
Amazon does not keep any record of the personal password(s) you've set to lock the screen, for Parental Controls, or from within any of your password-protected apps, files or documents.
It's kind of a drag to have to do a reset because it will clear all your downloaded content and any bookmarks, annotations, etc. you've made since the last time your device synced to Amazon's Cloud. If you usually keep your Wi-Fi or cell connection on the device active while using it, then in all likelihood an automatic sync updated everything the last time you used the device. If not, you can try calling Amazon Kindle Customer Support to ask if they can initiate a sync of your device from their end before you do the reset.
But note: if the only reason you're considering asking them to sync for you is to save game app progress, you may be out of luck because game apps don't all automatically save their progress to the Cloud like other types of content do. Many of them aren't designed to save progress to the Cloud at all. More bad news: a screen-locked Kindle, Paperwhite or Fire can't just be connected to your computer via USB to back up the stuff you want to save before doing a reset, either; the device will remain in a 'locked' state, with all its content inaccessible, until you either enter the correct password or reset it.
To contact Amazon Kindle Customer Support, login to your Amazon account, go to Your Account > Manage Your Kindle and click the Help link at the top of the page. On the Help page, there should be a large, yellow "Contact Us" button in one of the sidebars.
To unlock and reset your Kindle, Paperwhite or Fire:
1. On a Kindle Fire (any model) attempt to enter a password—any string of characters will do—five times in a row. After the fifth failed attempt, you'll be prompted to reset the Fire without having to go through the menus as described above.
2. On a monochrome Kindle, Kindle Touch or Paperwhite, reset your Kindle by entering "111222777″ as the parental controls / screen lock password.
Now the device is unlocked, but it's also been cleared of all the content you've downloaded to it and it's been totally disconnected from your Amazon account, so you'll need to go through the set-up screens to re-register it and then re-download whatever content you'd like to have on it again.
There! That was easy. Kind of a bummer to have to do, but easy.