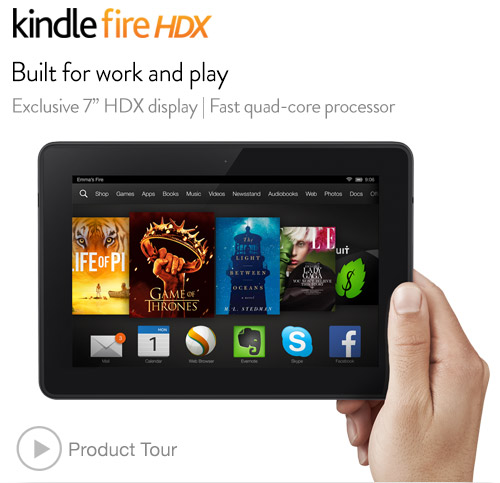 I've previously written about the pointlessness of antivirus protection for the Kindle Fire line of tablets (see my post, Kindle Fire Antivirus: You Still Don't Need It), but the new HDX line of Fires adds a new wrinkle since they all come with the option for 4G cell service connectivity.
In my prior posts on this topic, I discussed how some hackers target cell phones specifically to add bogus charges to the phone owners' bills. Many, if not most, cell phone owners won't notice small charges scattered across an entire month, but they add up quickly. Some hackers go for broke right out of the gate and try to make a single, large bogus charge to the phone owner's bill (usually masquerading as some kind of pay-by-the-minute service, like a party line or psychic reading service). They sometimes get away with it because these types of charges are made to the phone owner's account immediately and the hackers' hidden, offshore location makes them hard to find or prosecute.
Cell Connectivity Changes The Game, If You're Using It
All of the new Fire HDX tablets have a cell connectivity option. Note that I said "option": all of the HDX tablets are also available in a Wi-Fi only model. The Wi-Fi only models have different hardware inside than the cell-enabled models, so there's no risk your Wi-Fi only model could ever be used to make bogus cell service account charges. However, those who do connect their HDX tablets to a cell service account are opening up a possible avenue for that kind of hacker activity. It's no bigger nor better an avenue than any cell phone, but it's something HDX owners with cell connectivity need to be aware of.
Those who opt for WiFi only HDXs still have very little to worry about, because the Wi-Fi HDXs are still not "proliferation-friendly" devices. Like all Fires, they're designed to connect primarily to the Amazon "ecosystem", and even when you use the browser or Wi-Fi you're relying on Amazon-proprietary software to do so. Hackers want to target devices that can spread their malicious programs very quickly, very easily, to as many different types of devices possible, and to the maximum possible number of devices. Fires and HDXs without cell connectivity don't meet any of those requirements.
As of this writing I've yet to hear of any hack, virus or malware appearing on any Kindle Fire tablets, even the 4G LTE models (with cell connectivity).
**UPDATE 11/14** I'm hearing many reports of the FBI/Moneypak virus appearing on various Fire models, not just HDXs, but in every case the user opened the door to hackers by either rooting their device, sideloading apps, or downloading a suspicious attachment from within the email app on the Fire.  See my post, Malware Update: FBI Moneypak / Ransomware Virus On Kindle Fire and How To Avoid It, for full details. So far, this is the only malware I've heard of showing up on Fire tablets.
No Other Malware Attacks Yet, But…
…that doesn't mean there never will be.
On the one hand, current security solutions for the Fire line of tablets cannot possibly protect you against an attack that has yet to occur, since the security software companies can't create software to detect and address a threat that doesn't exist yet. Before a new malware "definition" can be added to a database of hacker attacks, the programmers have to be able to examine the attack to figure out how it works and exactly what it's doing. If you buy an anti-malware/security program or subscription right away, you could end up paying for something you don't really need for months, or maybe even a year or longer, depending on how long it takes the number of Kindle Fire HDX 4G LTEs to reach critical mass and how quickly hackers target them.
On the other hand, quality security software is updated very quickly upon discovery of any new threat, so those who already have some kind of security app on their HDXs will receive new layers of protection more quickly than those who haven't invested in such an app when that first hack occurs.
Therefore, if you're getting a Fire with the 4G cell connectivity option (and intend to use its cell functionality), or already own a Fire with a cell service subscription, plan on getting some kind of security app for it.
The annual subscription fee can run you $50 or more for a standalone solution, so it's worth checking with whatever antivirus/security software you already use to protect your home computer(s) to see if it's possible to add mobile devices. Many antivirus/security software providers have free apps you can install on mobile devices to connect them to your pre-existing subscription, though some may charge an extra fee for adding new devices. Contact your antivirus/security software provider (email address or phone number should be available on their website) to inquire about what's available to you.