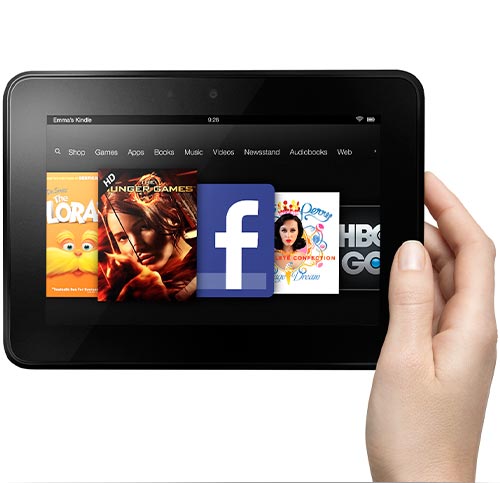 Your Kindle Can Read More Than Just Kindle Books
Kindle books aren't the only e-publications you can read on your Kindle or Fire.
It can handle pdfs, text files and .mobi files without any extra steps, and Amazon will convert many other popular file formats (like .doc, the standard format for Microsoft Word documents) into Kindle format for you for FREE, too.
You can get ebooks from sources other than Amazon, in formats other than .azw (Amazon's proprietary file format for Kindle books), and email them as attachments from your personal email account to your Kindle device. You can do the same with personal documents like files from work or school, as well.
Amazon doesn't exactly keep this information secret, but it seems like most Kindle and Fire owners have no idea how to send anything other than Kindle books they've bought from Amazon to their Kindle devices. No worries, the Digital Media Mom's got your back!
A Simplified Kindle Email Address, Introduced With Second-Generation, 2013 Kindle Fire Line
10/7/13 UPDATE: For owners of second-generation Kindle Fire devices (Fires originally released in 2013), Amazon has greatly simplified the email method of document transfer by assigning a single Kindle email address to each user instead of separate addresses for every Kindle or Fire device you own. Now you can simply email documents to [your Amazon username]@kindle.com to send a document to Amazon's cloud, and from there it's available to all of your Kindle or Fire devices.
**1/11/14 UPDATE** I've recently discovered that while Amazon will assign this simplified address to the first 2nd Generation (2013) Kindle Fire you buy, all your other Kindles / Fires / Paperwhites will still have their own, separate email addresses. Personal documents you mail to [your Amazon username]@kindle.com will be queued for delivery to that specific device (the first 2nd Gen Fire to be added to your account) and will not become available to your other Kindle/Fire devices from the Cloud until the document has been sent to that specific 2nd Gen Fire.  The document should appear on the carousel of that specific 2nd Gen Fire the next time you turn on that device and have a WiFi connection.
If you'd rather use this simplified email address for a different one of your Kindle/Fire devices, you can change the email addresses Amazon assigned to your devices from the Amazon site.
1) Login to Amazon and go to Your Account > Manage Your Kindle >Manage Your Devices
2) Select the Kindle/Fire that currently has  [your Amazon username]@kindle.com and click the Edit link for that device.
3) Change its email address to something else and save your changes.
4) Repeat the process to change the email address on your preferred device to [your Amazon username]@kindle.com.
You can also change the device names that were assigned by Amazon in the 'Edit' area.
If you own a first-generation Kindle or Kindle Fire, introduced prior to 2013, read on for further directions on sending documents to those devices.
Two Ways To Send – But Only One Of Them Is Free
If you read the Amazon help pages on the topic of sending personal documents to your Kindle/Fire, you'll find a bunch of sorta confusing stuff about document delivery over Wi-Fi versus Whispersync, document delivery fees for documents sent via Whispersync, and something called "aggregation of fees for Whispersync document delivery service". But really, all you need to know is this:
Any document in a supported file format can be sent to your Kindle or Fire as an email attachment FOR FREE. While there's no guarantee that every possible file format will successfully convert to Kindle format, Word files, text files, ebooks in .mobi and .epub formats are a very safe bet, and your Kindle can display pdfs and HTML (web page format) and several graphics (image) file formats as-is, with no conversion required at all.
Amazon provides a list of supported files types here.
Wi-Fi Versus Whispersync
From Amazon's help pages:
Kindle Personal Documents Service doesn't charge fees for delivery of personal documents to Kindle devices over Wi-Fi or to supported Kindle reading applications…
And how do you deliver personal documents to your Kindle device over Wi-Fi, to avoid delivery fees? Via email, of course! Right after the above statement, the help page launches into a big 'ole explanation of delivery via Whispersync, which does incur delivery fees. But once you know how to send documents for free, why would you even care about that stuff? Let's skip ahead to the Wi-Fi delivery particulars. From the same help page:
You can also send your personal documents via e-mail as attachments to [name]@free.kindle.com. To have a document converted to Kindle format (.azw), the subject line should be "convert." Kindle Personal Documents Service will attempt to deliver your personal documents to your Kindle device via Wi-Fi when connected, and to the e-mail address associated with the Amazon account to which the device is registered.
What's My Kindle's [name]?
To find out what to put in that [name] spot of the email address above, login to Amazon and go to Your Account > Manage Your Kindle > Personal Document Settings. On that page, you will find the email address of any Kindle device you have registered with Amazon. The part that comes before "@kindle.com" is the [name] you can use when sending documents for free to [name]@free.kindle.com.
You know what else? If you don't like the [name] that was assigned by Amazon to your Kindle for its email address, you can change it right on that same page! Just click on the Edit link to the right of the email address.
Where's The Document I Emailed To My Kindle?
You'll be notified at whatever personal email address you have registered to your Amazon account when the document has been delivered to your Kindle or Fire. Note that you may have to sync the device to refresh its display.
You won't find anything you've emailed to your Kindle Fire in the Books area of the main menu, not even if it was sent in an ebook format. By default, anything you email to your Fire is treated as a 'personal document' and shows up in the Documents, Personal Documents or My Documents menu area (depending on your Fire model). As for other Kindle models…
If you scroll all the way to the bottom of the Amazon help page about Kindle personal documents, you'll find an area where all Kindle and Fire models are listed (with pictures, to help you easily identify your specific model); click on your model to view a help page about personal documents that's specific to your Kindle or Fire model.
I have personally used this free emailing feature repeatedly, and I can tell you first of all that it works very well, and secondly that it really IS free.